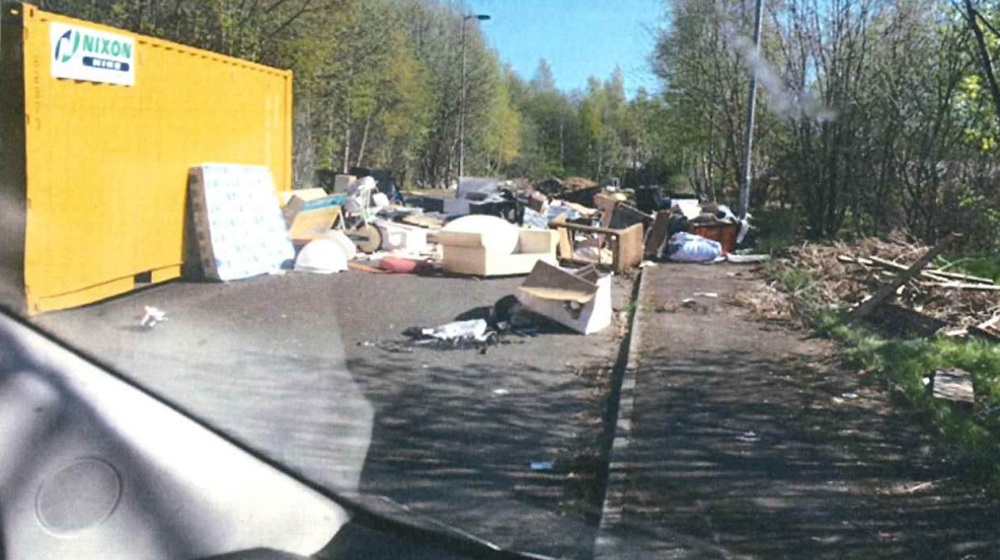 53-year-old Stuart Allison, from Bearsden, was fined £750 and ordered to pay compensation of £1,900 to Glasgow City Council for the clean-up.
His employee Steven Hutton, aged 44, from Coatbridge was fined £750. Both had previously pled guilty to an environmental breach.
The procurator fiscal depute told the court that between 10 June and 2 August 2020 there was large scale dumping of unauthorised waste at Dalsetter Crescent, Glasgow. Dalsetter Crescent is a dead-end street within a Drumchapel business development site.
Glasgow City Council Environmental Health Officers visited the site on 14 July 2020. They found a large quantity of tyres and household waste. They seized items of correspondence with names and addresses from the household waste.
Police attended at three of the addresses and spoke with the householders. These witnesses all said that they had hired a 'Man with a Van' via Facebook. They'd made payments to Stuart Allison's bank account or paid Steven Hutton in cash to remove unwanted household items such as a sofa, bed, washing machine, dryer, television, dolls house and a hoover
CCTV from a nearby business showed two vans involved in the dumping of unauthorised household waste. Both vehicles were tracked back to Stuart Allison.
On the morning of 22 December 2020 police attended at the homes of Allison and Hutton with search warrants. They seized several electronic devices including iPhones and arrested both men.
During interview Allison confirmed he was the director of four businesses including a 'Man with a Van' business and that neither he or his companies held a waste management licence. He said he had several Facebook profiles which he used to advertise and contact prospective clients and that he was responsible for arranging Hutton's work
While in custody Hutton confirmed that he had worked for his cousin Allison but had recently been sacked. He also stated to police that he 'HAD DUMPED WASTE IN NEARLY EVERY STREET WITH A DEAD END IN GLASGOW'.
Analysis of the phones revealed numerous discussions on the uplift and disposal of household waste detailing enquiries, pricing, and the logistics of disposal of waste from individual jobs.
There were many references to rubbish being taken to the dump and 'dump runs' but some messages showed that Allison knew Hutton was on occasion fly tipping the waste rather than disposing of it lawfully.
Speaking after the sentencing, Fiona Caldwell, who leads on wildlife and environmental crime for the Crown Office and Procurator Fiscal Service (COPFS) said: 
"Fly tipping causes the public real and legitimate concern. It is criminal behaviour which creates an eyesore and is costly to clear up and one that the local council must often carry.
"The deliberate and criminal actions of Stuart Allison and Steven Hutton show a clear disregard for the environment and undermines legitimate waste management companies.
"There is no excuse for illegal dumping of waste and, as with this case, where there is sufficient evidence of a crime and if it is appropriate and in the public interest to do so, we will prosecute."
The fiscal told the court that on the evening of Friday 24 July 2020 much of the waste at Dalsetter Crescent was consumed by fire. There is no suggestion that Allison or Hutton were involved in the fire.
After the fire the debris consisted of 51 tonnes of tyres and 17 tonnes of household waste. Glasgow City Council cleansing staff believed the volume of waste was significantly reduced by the fire.
The site clearance required 10 operators, a JCB shovel and operator and five artic lorries. The total cost of the operation to the public purse was estimated to be £10,000. Most of this estimated cost related to the removal and lawful disposal of tyres.
Allison and Hutton were not responsible for dumping the tyres. Another individual has previous been convicted and imprisoned in relation to dumping the tyres.
The cost for removal of the household waste was approximately £1,900.