The Victim Information and Advice service (VIA) within COPFS supports vulnerable people who, through no fault of their own, find themselves in the criminal justice process.  It also provides information and advice to next of kin in sudden or unexplained deaths.
Dedicated VIA officers become the point of contact for these individuals, offering guidance and advice as they go through a system that may seem confusing and unfamiliar.
These are victims, witnesses or next of kin who may be bereaved, fearful, anxious or traumatised.  They may be victims of stalking or domestic abuse; of sexual offences or hate crime.  They could be older (aged 60 or over), they may be a vulnerable witness.
Since its official launch in 2002, VIA has expanded and evolved significantly, as part of a prosecution service ever-striving to recognise the needs and fears of victims and how we can help.
For National Stalking Awareness Week (25-29 April) we speak to 'Margaret', an experienced VIA officer, about the role she has performed for more than 10 years.  Her name has been changed to respect the people she supports.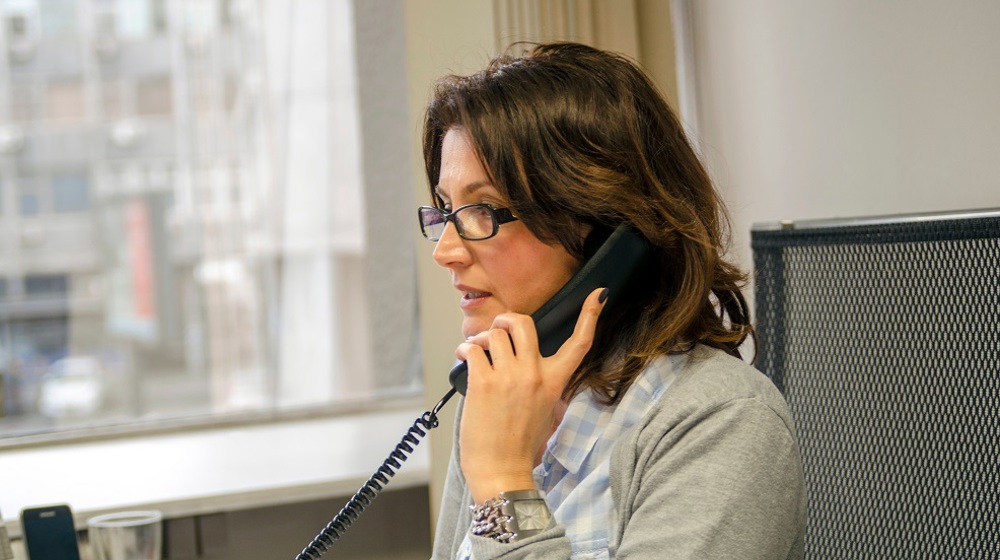 "I think of my role by imagining what it must be like to be the person on the other end of my phone call: the victim.  What kind of support would I be looking for, what kind of information would I need?  I try my best to give them the service that I would hope to find if something happened to me.
"Every victim or witness deserves my empathy and respect.  I'm always aware that I'm speaking to someone who's going through one of the most difficult periods they will ever experience.  So I spend a lot of time listening, trying to understand.   I can be the person they direct their queries to and I'll explain the processes they'll encounter. They are never just 'another case'.  They're a real person, like me.
"If they are a victim, they have had the courage to report the crime.  There may have been no witnesses so they've had to take it forward by themselves.  None of that is easy.  I'm there to support where I can and guide them to other services when I'm not able to help personally.
"Victims come from all walks of life.  They could be experiencing difficult circumstances outwith the crime they have suffered or witnessed and these can impact on their interaction with the justice system.
"Not everyone has easy access to transport for court hearings, for instance.  Some people may be worrying about money, they might be reliant on benefits or getting by from pay cheque to pay cheque.  They might have caring responsibilities, they might be struggling with their mental health.  And all of this could be happening in the background while the case is ongoing.
"From the very start, from the moment I introduce myself, I let victims know that there are limits to our remit.  And VIA is an optional service; the victim may not wish to engage with us and that is fine. Most people do want to be kept updated, however.  We can't do everything, and it's important that victims understand that, but we will do our best to guide them through what I call 'the life of a case'; from the beginning to end.
"I am open and honest about what we can do and sometimes that requires managing expectations.  It might mean pointing them in the right direction for help that we're not able to offer.  We work with organisations like Citizens Advice, Rape Crisis Scotland and CAMHS (Children and Adolescent Mental Health Service), and also with the police.
"Most victims will have had no experience of the criminal justice system before so they appreciate a familiar face or friendly voice as they go through the process. 
"If the case is going to court, it can be helpful for the victim to have a pre-arranged visit there.  Sometimes it helps to see the layout of the place, stand in the witness box, see the screen – if evidence will be given from behind it – even just experience the smell of the place.  This might sound strange but it's all about easing anxiety for the victim.  So when it comes to trial they're giving the best evidence they can because of the support that's been in place for them.
"I really consider it a privilege to be helping people in this way.  I started out as a Fiscal Officer within COPFS and never really thought that I would become involved with VIA.  Although I had always enjoyed dealing with members of the public, VIA seemed such a specialist service - and it is a specialist service - but I got great training from a very experienced VIA officer and I quickly took to the role.  Now, I wouldn't want to do anything else."